March 07, 2019
ST. PETERSBURG, FL.
After running a successful partial season in the Pirelli World Challenge in 2018, Nicolai Elghanayan has returned to the rebranded SRO America for his first full season of competition in the GT4 America series. Racing the No. 71 KTM X-Bow, Elghanayan will again race with MarcoPolo Motorsports, running the full Sprint championship, beginning with this weekend's double header race event at the Grand Prix of St. Petersburg.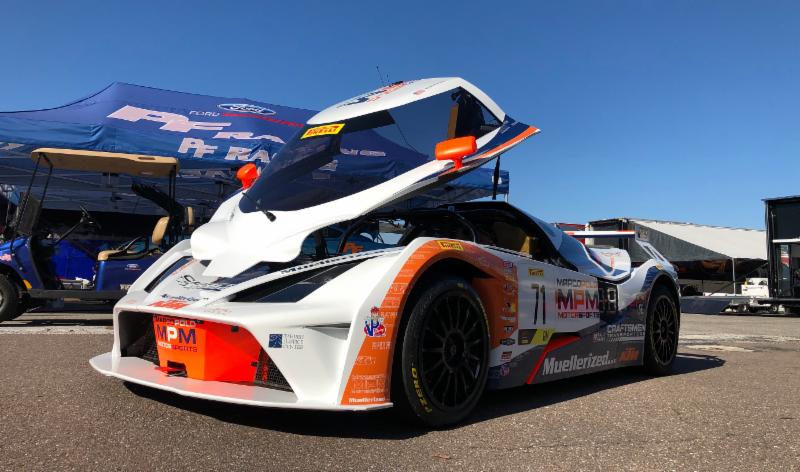 "I'm excited for the 2019 season to start," said Elghanayan. "The schedule for this year looks great, and I'm looking forward to kicking it off at St. Petersburg. It's a track I've always wanted to race at. This will be my first time not only at this course, but at any street course in my career. I've done a few races during the off season to keep me up to speed. There's going to be a lot of learning for me this season. I haven't been to a lot of these tracks and it'll be a great way to add more diversity to my experience."
Elghanayan competed in a handful of races in 2018, earning his first win and two pole positions at Lime Rock Park. In a highly competitive class and at tracks new to the racer, he graced the podium four times in his partial rookie season.
The Grand Prix of St. Petersburg will mark Elghanayan's first street course competition. The city of St. Petersburg, Florida transforms part of its waterfront property into a temporary 1.8 mile street course. Comprised of asphalt and concrete, the course layout is built with concrete walls, giving competitors minimal room for errors.
With a packed event schedule comprised of six series sharing the circuit over the weekend, Elghanayan and the other GT4 America competitors will have just 70 minutes of on track time to learn the street course circuit and practice before Saturday morning's qualifying sessions. Race one will begin at 4:00PM Eastern on Saturday, followed by race two on Sunday at 11:20AM. Both races will stream live on the SRO's GT World YouTube channel, as well as world-challenge.com. The races will premiere March 20 at 8:00PM, and again March 21 at 9:00PM. For event information, visit world-challenge.com.
About Kollin Altomare Architects
Beyond providing full service architecture, interior design and planning services, we create elegant, inspired projects. While we've built a reputation for turning unexpected challenges into creative opportunities, our acute attention to our clients' needs is where our team truly shines. We listen, we translate, we adapt, and we deliver. Providing aesthetically pleasing solutions to genuine problems, and actually building them. Resulting in not only award-winning hotels, resorts, spas, residential, retail, dining and leisure destinations, but enduring partnerships with the people who hire us. Driven to be Creatively Responsible and Responsibly Creative, we deliver inspired solutions that surpass the expectations of both our clients and their customers.
Craftsmen Industries
For racing professionals looking for the ultimate in customized automotive transport, Craftsmen Industries, the trusted leader in custom-built transporters, introduces the Craftsmen Transporter. Inspired by the great European racing design, Craftsmen Transporters are Precision-Built, Lightweight, Fast, High-Performance and High-Design.